We're actively involved in research at The Medical and we recently conducted research into the effectiveness of Podiatrists to carry out ultrasound exams on the plantar fascia in patients with plantar fasciitis.
Most medical research to date has been done by medical doctors called radiologists. These medial specialists have pioneered the use of ultrasound to look at problems like plantar fasciitis and have done so very well. However now foot specialists are now taking up ultrasound as a tool of their own.
We try to stay at the forefront in The Medical and Lawrence Bevan is one of the few Podiatrists in the country who is certificated in foot and ankle ultrasound. He has done a lengthy course in mentorship that involves a log of 100 mentored cases and a practical exam.
His recent research showed that Podiatrists can examine the plantar fascia with ultrasound and accurately measure it in a way that is repeatable from appointment to appointment within 0.5mm. Lawrence has gone on to mentor a colleague and that individual was also shown to have highly repeatable ultrasound skills.
Ultrasound is very useful in plantar fasciitis to show us exactly the nature of the problem, diagnose it correctly and plan your treatment confidently.
Here is what an ultrasound of a normal plantar fascia looks like on ultrasound, this is how we see it on ultrasound – the top of the picture is the skin level on the bottom of the foot.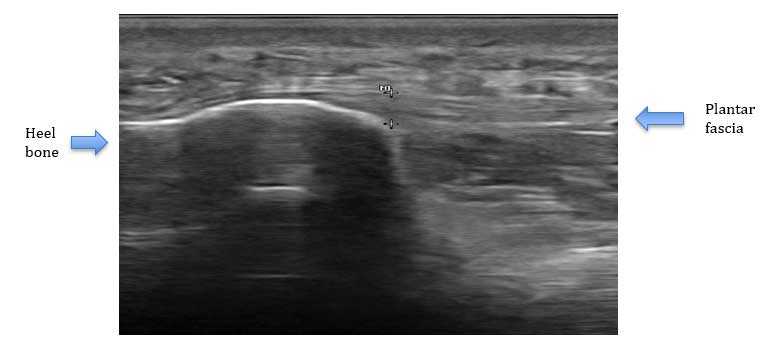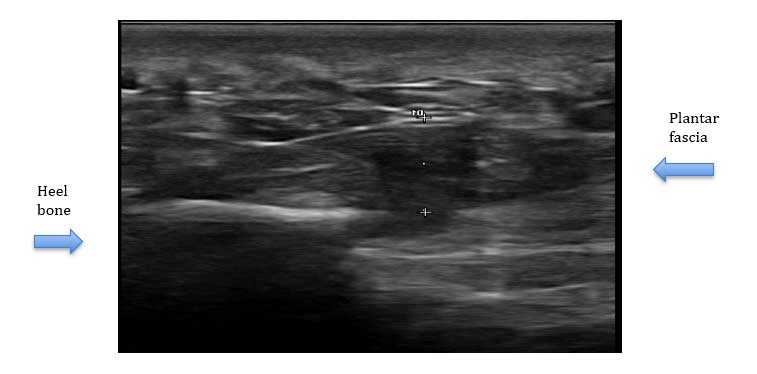 This is a picture of a plantar fasciitis patient – the fascia is very swollen and much darker in colour. The heel bone is also elongated forwards – probably a "heel spur" - something that can happen in chronic plantar fasciitis. This picture shows a very severe situation but one that happens in long-standing cases – something to avoid with early treatment!!